Deadline for Democracy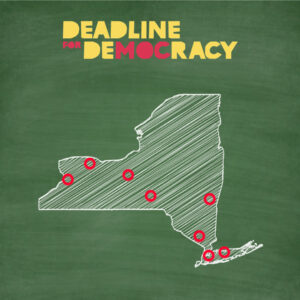 We are organizing rallies across the state outside of Sen. Schumer's regional offices on Monday, June 28th to show that there is overwhelming grassroots support for voting rights.
Sen. Schumer needs to know we're counting on him to get the Freedom to Vote Act passed intact, including with public financing for elections.
Join us!
RSVP for the rally nearest you
If none of the locations below are convenient, search for an event near you.
Albany
Leo O'Brien Federal Office Building
1 Clinton Square
Albany, NY 12207
Sunday, June 27th @ 9pm – Monday, June 28th @ 9pm
RSVP
Binghamton
Federal Building
15 Henry Street
Binghamton, NY 13901
Monday, June 28th from 12pm – 1pm
RSVP
Buffalo
130 South Elmwood Ave.
Buffalo, NY 14202
Monday, June 28th @11:30am
RSVP
130 South Elmwood Ave.
Buffalo, NY 14202
Monday, June 28th @ 5pm
RSVP
Melville/Long Island
135-155 Pinelawn Road
Melville, NY 11747
Monday, June 28th @ 12:30pm
RSVP
New York City/Brooklyn
Near Schumer's Apartment Building
9 Prospect Park West
Brooklyn, NY 11215
Monday, June 28th @ 5pm
RSVP
Peekskill
1 Park Place #100
Peekskill, NY 10566
Monday, June 28th @8:30am
RSVP
Rochester
100 State Street
Rochester, NY 14614
Monday, June 28th @11am
RSVP

Syracuse
Hanley Federal Building
100 S. Clinton St.
Syracuse, NY 13261
Monday, June 28th @ 12PM
RSVP
White Plains
111 Martin Luther King Jr Boulevard
White Plains, NY 10601
Monday, June 28th @ 5:30PM
RSVP